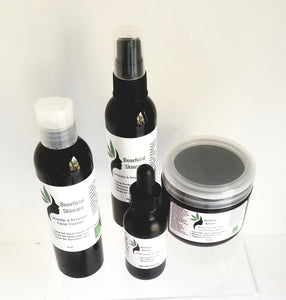 Anti-Ageing Set
1.   Lavender & Rosemary Cleanser 4oz btl  Lavender (Lavandula angustifolia) and rosemary (This gentle daily cleanser will be an excellent choice for all skin types, however this cleanser is especially great for acne prone skin types.
2.  Rose Kaolin Clay Cleansing Mask: Made with Rose Kaolin Clay an exceptional clay with multipurpose assets.  Super absorption, reduces dryness, flakiness, improve skin clarity and elasticity. Use as a once a week deep cleanser and detoxifier for your face and body. How to use: Apply to face and body gently rub skin in a circular motion.  Let dry for 15 minutes and rinse clean.
3. Rose Water Toner has been a beauty go to for centuries across the world. Rose water help regulates ph levels and controls excess oils. Great for maturing skin and acne prone skin.
 4. Hyaloronic Acid Serum 1oz btl works to keep every aspect of skin stable, safeguarded, and constantly renewed. Hyaluronic acid is also a humectant, which is a category of skin care ingredients that are hygroscopic, meaning they draw moisture from their surroundings. which is especially beneficial for dry, .  Many people find great benefits with daily use as a moisturizer.