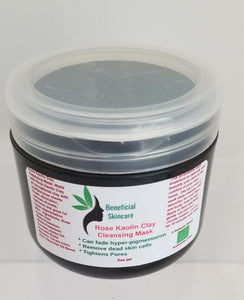 Rose Kaolin Clay Cleansing Mask 4oz jar
Rose Kaolin Clay Cleansing Mask: Made with Rose Kaolin Clay an exceptional clay with multipurpose assets.  Super absorption, reduces dryness, flakiness, improve skin clarity and elasticity. A little goes a long way.  This concentrated product should last 90day with daily use.
Use as a once a week deep cleanser and detoxifier for your face and body. How to use: Apply to face and body gently rub skin in a circular motion.  Let dry for 15 minutes and rinse clean.

Ingredients: Rose Kaolin Clay  Water,Potassium Oleate,Potassium Cocoate,Jojoba Oil, Avocado Butter Glycerin, Citrate,Citric Acid, Essential Oil Blend