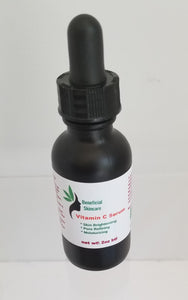 Vitamin C Skin Brightening Serum 1oz btl
Vitamin C serums can brighten age spots and hyper-pigmentation, or discoloration of the skin. Pure Vitamin C act as a natural bleaching agent and lighten the skin, including age spots and dark circles under the eye. In addition to brightening skin, can prevent mild redness associated with sun damage.
Ingredients:  This all natural formula contains no wax or fillers. Made with pure organic aloe vera, rosewater, olive oil, almond oil,jojoba oil,vitamin C and a blend of essential oils.  Great for all skin types.  Use 2-3 drops after cleansing face. Shake well before using. Preserved best when refrigerated.