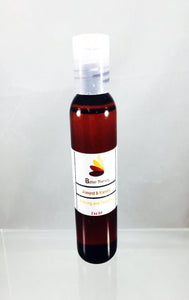 Almond & Vanilla Essential Oil 2oz Btl
Almond & Vanilla Essential Oil 2oz Btl 
"SKIN" Benefits of this Blended Oil:
(INTENSELY HYDRATING AND MOISTURIZING)
* CAN BE USED WITH A DIFFUSER
(ALMOND)
The Monounsaturated fatty acids, vitamin E, A and B, potassium, proteins, zinc and a number of other vitamins and minerals make up this great oil ideal for the skin topically.
Helps to remove impurities and dead skin cells delaying signs of aging, reducing wrinkles and fine lines, also reduces dark circles and makes the skin healthier.
Can treat chapped lips and be used to help remove makeup.
Greatly helps with psoriasis and eczema, and is a good substitute for hand and foot cream.
(VANILLA)
Very high in antioxidants content which helps reduce free radicals due to other waste products used.
Vanilla essential oil possesses both antioxidant and cancer fighting properties attributed to the presence of about 200 compounds which possess antioxidants properties..to numerous to list.
Helps prevent and reverse skin damage caused by free radicals, helps slow down signs of aging like fine lines, wrinkles and age spots making it great as an anti-aging source. 
Has been known as a traditional remedy to help heal burns, wounds and cuts. I soothes, smooths and keeps skin soft by promoting healthy skin.
Also promotes healthy hair, silky hair and hair growth.
 (OVERALL USE)
Wear as a tantalizing fragrance (Gender Neutral) 
Use as a spa solution, i.e., face, bath and/or aroma therapy etc.
Can be fluffed through the hair and beard for a pleasant aroma
Can be used in your favorite home concoction (remedies)
Has many other uses.
 * Our blend of Almond and Vanilla Oils helps to achieve healthy and glowing skin. It also helps to clear up complexion and impart a warm glow while nourishing and making skin smoother and softer. In-addition, our rich and wonderful aroma creates an amazing aromatic experience, blended with jojoba oil for the ultimate skin and hair treatment.