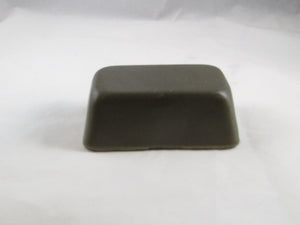 Dead Sea Clay 5oz Soap
Dead Sea Clay Soap 5oz Bar
"Skin" Benefits of this Butter Based Soap:
(INTENSELY HYDRATING AND MOISTURIZING)
Amazingly awesome, our Dead Sea Clay Soap has exceptional skin benefits helping to provide flawless skin, scented with our rosemary essential oil providing a beneficial regiment.
Our blend mildly exfoliates giving a more deeper cleansing while gently detoxifying removing impurity's.
Skin blemishes gradually disappear slowing the process of premature aging.
Great for all skin types with oily or dry skin, also helps controls acne, psoriasis and rosacea.
Helps to reduce pore size making skin tighter and firmer.
Great for the whole body in which it allow the body to breathe, while drying the excess oil from the skin without stripping the skin of it natural oils.
Also great to wash the hair leaving the hair silky soft and  manageable.
* NOTE: A customer favorite, It leaves the skin feeling silky soft and well nourished. It smells like fresh cut rosemary. The dead sea clay has many healing and health benefits, as it pulls toxins and bacteria from the skin.