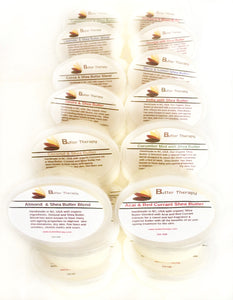 36 Assorted Travel sized 2oz Butter Tubs
Assorted 2oz butters that's intensely hydrating and highly moisturizing
This refill shea butter collection includes 12 essential fragrances of 3 of each butters equaling 36 butters. (YOU CHOOSE THE SCENTS YOU WANT)
"SKIN" Benefits of these butters:
Helps with all skin types,
non oily when used as suggested
Great for dry damaged skin due to sun burn, wind burn, eczema, psoriasis and rosacea
Helps with fine lines and is age defying
Will fade stretch marks, dark spots naturally
Keeps the skin very supple and elastic. 
Can be used as a natural sun screen and lip balm
A great overall body moisturizer for hands, body, hair scalp, feet and hair (in moderation).
Note: 36 assorted butter tubs at $3.75 each..totaling $135.00
Also: Available as a reoccurring wholesale purchase (auto-delivery).