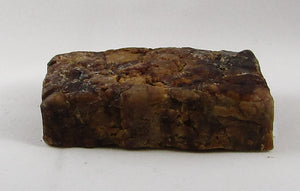 Ghana Black Soap 4oz bar
Ghana Black Soap 4oz Bar
* All Natural - Hand Made
* Hydrating and Moisturizing 
* Great for All Skin Types
Our Ghana Black Soap is especially made from coconut oil, cocoa pod ashes, plantain skin ashes and palm oil.
The perfect Black Soap for those who enjoy a great lather that doesn't strip the skins moisture.
Gives intense hydration while adding moisture, mildly exfoliating smoothing the skins texture.
Helps with evening out skin blemishes, great for acne and acne scars, eczema, psoriasis and rosacea.
Those with varying degrees of sensitive skin find this soap gratifying and satisfying to use.
Our Black Soap helps fight topical bacteria elements cause by free radicals formed on the skin among a host of other skin benefits.
Your skin will thank you!