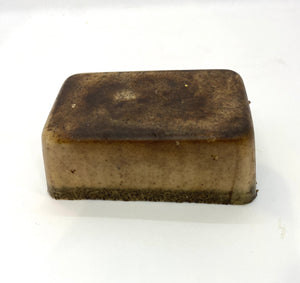 Coffee Cream Soap 5.6oz Bar
Coffee Cream Soap 5.6oz  Bar
"Skin" Benefits of this Butter Based Soap:
(INTENSELY HYDRATING AND MOISTURIZING)
(EXFOLIATING AND POLISHING)
Awakingly rich and creamy, our Coffee & Cream Soap smells like coffee, looks like coffee, feels like coffee and is pure organic coffee at its best, you'll love this wake me up packed with age-fighting nutrients.
We make this pure organic coffee soap as an exfoliating dead skin cell remover that has many more topical skin benefits.
Coffee used topically is said to reduce cellulite and is highly antioxidant great for sensitive skin.
In-addition to waking you up, the natural caffeine found in coffee has been shown to be very soothing to the skin.
Other benefits are, it fights free radicals, soothes inflammation, helps treat rosaceae, helps repair UV damage, can help with under eye dark circles and tightens skin.