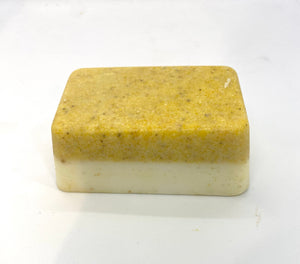 Cornmeal Soap 5.6oz Bar
Cornmeal Soap 5.6oz Bar
"Skin" Benefits of this Butter Based Soap:
(INTENSELY HYDRATING AND MOISTURIZING)
* NOTE: THIS SOAP IS THE FOUNDERS PRIDE AND JOY AS IT WAS FORMULATED BY HER LATE GRANDMOTHER WHO CREATED THE SOAP TO BE USED FOR HER ACNE PRONE SKIN AND SURFACE SKIN TAGS.
Our Cornmeal Soap is an amazing treat, born in the South created with love, a great pore refining soap.
We blended our refined shea butter and essential oils and fashioned with cornmeal to create this luxury.
Our soap is detergent and chemical free, as well as, parabens and sulfate free, having no alcohol content.
Designed to deep clean pores and exfoliate dead skin cells.

Ideal for Acne, Skin tags, enlarge pores, heat bumps, teenage puberty and pox skin.
How to use:  Wet soap bar with warm water and apply white side of soap bar directly to the face, gently spread lather all over face avoiding the eyes, then (do not rinse) but flip bar to the cornmeal side, gently scrub face in a circular motion until entire face has been exfoliated, after entire face is cleansed and exfoiliated, rinse well with warm water or a warm wet cloth.  * Note: For best results follow up with our Vitamin C & E Serum or one of our facial tonic treatments.