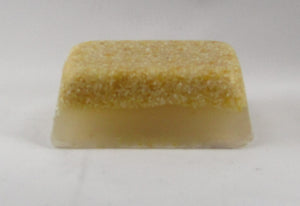 Hominy Grit Soap 5oz Bar
Hominy Grit Soap 5oz Bar
"Skin" Benefits of this Natural Glycerin Based Soap:
Our Hominy Soap is a natural glycerin vegetable base, great for oily skin types, yet can be used on all skin types,
It does not add moisture like 95% of our soaps however designed to deep clean pores and exfoliate dead skin cells.
Great for all over use, especially for men with shaving issues and or thick skin build up on the feet.
It helps to alleviate blocked pores by opening the pores relieving them of dirt, dead skin and oil build up, a major factor in clogged pores and a contributing culprit to causing ACNE (facial, back and arms).
We blend our natural glycerin base with a natural grit, our soap is detergent and chemical free, as well as, parabens and sulfate free, having no alcohol content.