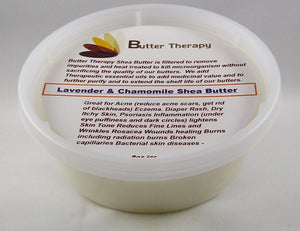 Lavender & Chamomile Shea Butter Blend 8oz Tub
Lavender & Chamomile Shea Butter Blend 8oz Tub
"SKIN" Benefits of this butter: {Used in Moderation}
* (INTENSELY HYDRATING AND MOISTURIZING)
* (ABSORBS QUICKLY AND NOT OILY)
Our blend helps with the treatment various skin disorders such as eczema, burns, sunburns, wrinkles, psoriasis and other inflammatory conditions such as, diaper rash and cradle cap.
Lavender and Chamomile can be calming and soothing for all ages and all skin types.
Used in moderation our blend has the ability to reduce stress and anxiety and eliminate nervous tension.
Great for aromatherapy and can help with respiratory problems.
Also has been known to help enhance blood circulation.
Lavender and Chamomile can induce sleep and in some instances relieve pain and repell bugs.