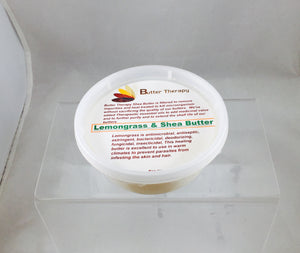 Lemongrass Shea Butter Blend 8oz Tub
Lemongrass Shea Butter Blend 8oz Tub
"SKIN" Benefits of this butter: {Used in Moderation}
* (INTENSELY HYDRATING AND MOISTURIZING)
* (ABSORBS QUICKLY AND NOT OILY)
Our Refined Shea butter is a well rounded skin butter ideal for everyday use and great for all skin types.
Lemongrass essential oil properties includes antiseptic, anti-fungal, antibacterial, bactericidal and antimicrobial to name a few.
This Butter is great for summer time and warm climates, its essential properties helps to prevent the infestation of parasites and keeps Mosquitoes away.
Helps to neutralize free radicals that could form and cause skin tumors.
This non-oily butter has a heightened lemony scent and doesn't require much when applying, yet is highly nourishing for the skin stability.
Great for all over use and can be fluffed through the hair for best results when out and about nature.