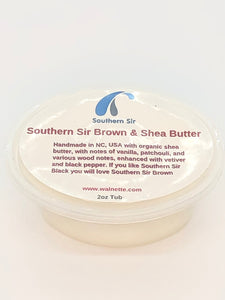 Southern Sir Brown Shea Butter Blend 2oz Tub
Southern Sir Brown Shea Butter Blend 
"With notes of vanilla, patchouli, and various wood notes, enhanced with vetiver and black pepper." *If you like Southern Sir Black you will love Southern Sir Brown!
"SKIN" Benefits of this butter:
* (INTENSELY HYDRATING AND MOISTURIZING)
* (ABSORBS QUICKLY BUT NOT OILY)
We blended our proprietary signature essentials oil blend into a base of purified Shea butter to design this men's line.
Great for an all over skin and hair moisturizer, which helps with skin elasticity and suppleness.
This Butter was created with "HIM" in mind for its robust masculine smell.