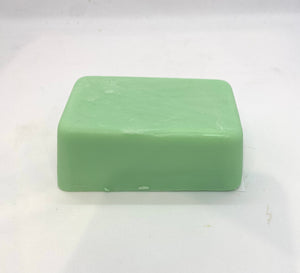 Southern Sir Green Soap 5oz Bar
Southern Sir Green Soap
Enliven your senses with this uniquely fresh smell, cleanses your body leaving no residue, does not strip moisture, sulfate free status.
"Created with notes of fig, gardenia, clove, lime and eucalyptus adding an invigorating experience. Rosemary, sandalwood, patchouli and  galbanum provides an earthy tone, all enhanced with vanilla content. This soap is blended with a soap base made of pure organic shea butter for moisture.
"SKIN" Benefits of this butter:
* (INTENSELY HYDRATING AND MOISTURIZING)
We blended our proprietary signature essential oil blend into a base of pure organic Shea butter Soap to design this men's line.
This SOAP was created with "HIM" in mind for its uniquely fresh smell.