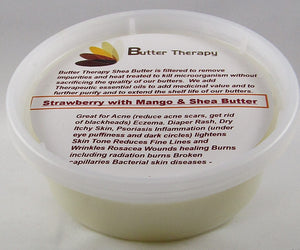 Strawberry Mango & Shea Butter Blend 8oz Tub
Strawberry Mango & Shea Butter Blend 8oz Tub
"SKIN" Benefits of this butter: {Used in Moderation}
* (INTENSELY HYDRATING AND MOISTURIZING)
* (ABSORBS QUICKLY AND NOT OILY)
The Strawberry Essential Oil gives this butter a pleasantly unique smell. It's a tantalizingly sweet aroma pleasing to the senses.
This unique Butter is obtained from the kernels (Seeds) of the Mango tree and possess a high content of stearic acid which makes it an awesome moisturizer.
Our blend of Strawberry Mango Shea butters are non-greasy because of its surfactant properties.
With an awesome emolliency quality it lends to protection against the Sun's damaging rays.
It is known to prevent drying of the skin formation of wrinkles.
Can also reduce the degeneration of skin cells and greatly restore elasticity.
The natural tropical essential oils gives a much needed skin benefit for keeping and even skin tone.