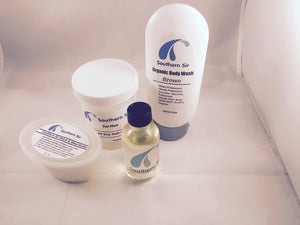 The Ultimate Men Set (Small)
The Ultimate Men Set (Small) 
"Skin" Benefits of This Mans Set.
(INTENSELY HYDRATING AND MOISTURIZING)
* This set contains everything your (FATHER, HUSBAND, SON OR SIGNIFICANT OTHER) will need to pamper himself from head to toe.
* It comes in our most popular fragrance of Blue and Black.
An awesome scent Blue is an uplifting and tantalizing sharp clean smell, while Black is more of a woodsy earthy musk smell.
YOU GET:
Organic Body Wash 6oz
Exfoliating Body Scrub 8oz
Shea Body Butter 4oz
Southern Sir Body Oil 2oz Btl
* When ordering this set be sure to add a note at checkout in the note section of your preferred scent.