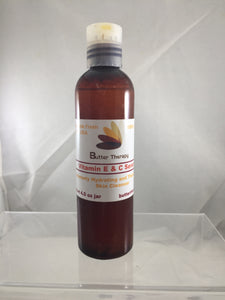 Vitamin C & E Serum 4oz Btl
Vitamin C & E Serum 4oz Btl
"Skin" Benefits of This All Natural Serum.
(INTENSELY HYDRATING AND MOISTURIZING)
* THIS IS ANOTHER OF THE FOUNDERS CREATION AND A FAVORITE OF OUR CUSTOMERS.
* Our Vitamin C and E Serum is one of the best values on the market.  *Our customers rave about this highly penetrating serum which leaves them refreshed and aglow without the oily feeling.
Nutrient and antioxidant enriched combines this medium-weight serum, fortified with vitamin C & E, essential oils of orange, arnica, juniper berries and cucumber. 
In-addition, this vitamin C and E packed serum helps brighten dark spots caused by acne, pox, and aged spots.
An awesome free radical fighter, help prevent premature ageing caused by pollutants and damaging UV rays.
Great to use with our exfoliating soaps which allows deep penetration of the serum.
Our serum has been said to control the T-zone area, balance uneven skin issues, give a smooth skin texture, and helps control acne with regular use, as well as, with the use of our cornmeal soap.
Helps to redefine pox skin types as well.
Its also great for fine lines and wrinkles caused by dehydration and other factors, firming the skins surface adding tightness while regenerating collagen.