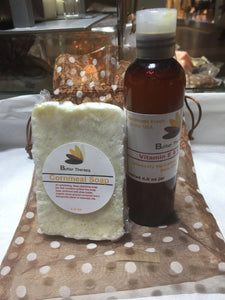 Vitamin C & E Serum Set (Large) 4oz Btl
Vitamin C & E Serum Set (Large) 4oz Btl
"Skin" Benefits of This Set.
* Please refer to the individual products..(cornmeal soap & vitamin c & e serum for a more complete description.
Our Vitamin C & E Serum set is Butter Therapy's ultimate facial care set for deep cleansing and pore refining.
With its intense exfoliation and hydration factors for the skin, it has been raved about for years.
Great to assist with acne prone skin and people who have dark spots caused by acne scars.
Ideal for the whole body but was formulated as a facial regiment. 
*For a full detailed description of these products visit each product individually.