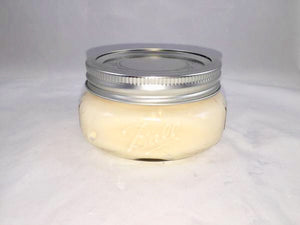 Vitamin C Whipped Cleanser 4oz Jar
Vitamin C Whipped Cleanser 4oz Jar
"Skin" Benefits of the Butter Based Cleanser.
(INTENSELY HYDRATING AND MOISTURIZING)
* A true luxury product to cleanse your face, body and hair.  Made with organic ingredients of coconut oil, shea butter and other oils that's enriched with the strong bacteria fighting properties. This luxury cream cleanser produces a thick foamy consistency.
Our Vitamin C Whipped Cleanser..a wonderfully amazing facial cleanser, Vitamin 'C' refines the skin's cell wall promoting healthy vibrant tone and texture.
Great for damaged skin texture promoting health and healing. This product can also be used as total body wash system.
In-addition, use this product to wash the hair giving it total body, vibrancy, moisture and tone. 
Vitamin 'C' Benefits: Vitamin C stimulates collagen and protects the skin from harassing and damaging sources such as pollution. Also helps improve wound healing from burns and cuts.
Vitamin 'C' supports new tissue growth and skin cell regeneration and aids in damaged skin such as eczema etc.
Promotes collagen production which tones and firms the skin. So, new collagen will rejuvenate the skin from the root and reduce wrinkles and symptoms of aging.
Protects against discoloration due to photochemical reactions that can lead to tumors and several kind of skin cancer, as a result, helps promote younger and smoother skin.
Vitamin 'C' Cleanser for the hair: Enhances Hair Growth, fights dandruff, can prevent premature graying when used regularly, also can help combat hair loss..yet there are limited research on this subject.