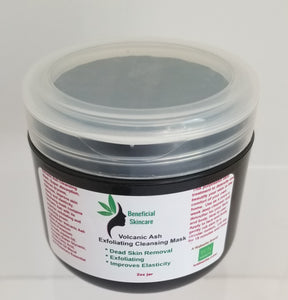 Volcanic Ash Exfoliating Cleansing Mask 4oz jar
Volcanic Ash Cleansing Mask: Removes dead skin cell, improves blood circulation and stimulate cell regeneration. Super absorption, reduces dryness, flakiness, improve skin clarity and elasticity.  A little goes a long way.  This concentrated product should last 90day with daily use.
Ingredients: Contains Volcanic Ash with its superior exfoliating and purifying power. Water,Potassium Oleate,Potassium Cocoate,Jojoba Oil, Avocado Butter Glycerin, Citrate,Citric Acid, Essential Oil Blend
and Rosemary Essential oil.