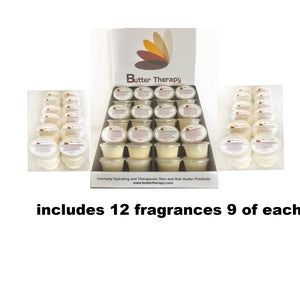 Wholesale Starter kit plus 2 refills Travel sized 108/ 2oz Shea Butters Tubs
(Not available with any other discounts or codes)
These hydrating and therapeutic skin butters will fly off the shelf as people will love these travel sized skin care luxuries. The average person tends to purchase more than one of these butters as they fall in love with the variety of tantalizing smells. The product is presented to sell itself as the labeling of the product is descriptive and displayed attractively. Great for all over and for sensitive skin types.  Makes a great retail item for Hotel gift shops, Salon Spa's, Tattoo Shops and Convenience stores etc.  Also a great item to use for fundraising for schools, churches and non profit organizations.
This kit includes
108/2oz Shea butter tubs at $3.25 each at $351.00 plus a one time purchase of retail display for $25.00. Includes 12 fragrances 9 of each
Choose from over 21 different fragrances and essential oil blends. Your kit will include 12 different fragrances and 3 of each. Or you can choose 6 fragrances and 6 of each (please specify preferences during checkout in the notes section.

You can purchase The Butter Therapy attractive table top retail display for an additional $25.00 .

In order to receive wholesale rates you must sign up for reoccurring every month or every 2 months to receive wholesale rate. You can cancel or pause your reoccurring order anytime.

Our butters are all natural and are not designed to sit on the shelf for longer than 2 months to guarantee freshness, so you must be motivated to move inventory.

Wholesalers who own business please include EIN/Tax Id # in note section during checkout
.
Avocado & Shea Butter
Acai & Red Currant (Sweet & Tart)
Almond & Vanilla Shea Butter
Cocoa Butter & Shea Butter
Coconut & Shea Butter Blend
Cranberry Orange & Shea Butter
Berry Lemon & Shea Butter
Cucumber Mint & Shea Butter

(Crisps & Cool)

Desire Shea Butter

(Clean and Fresh Scent)

Georgia & Shea Butter

(Fresh Peaches)

India & Shea Butter

(Exotic oils of India)

Lavender & Shea Butter
Mango & Shea Butter
Lemongrass & Shea Butter
Pain Freeze
Raw Shea Butter
Strawberry & Shea Butter
Southern Sir Blue Men (

Clean & Fresh)

Southern Sir Black Men

(Sharp & Musky)

Sweet Vanilla & Shea Butter
Tea Tree & Shea Butter
 Auto-Recurring Wholesale Benefits
-Relieve the hassle of reordering product
- Keeps shelf stocked
- Easy management of account to cancel, pause or make additions
- Auto-delivery options are Monthly or Every 2 Months.
* Our (2oz Butter Tub) products can be retailed priced between  $6.00 to $8.00.
* Our Butter products are all natural and handmade free of harsh chemicals.
* Our Butter products can be used for dry skin, severely damaged skin and for people who suffer from eczema, psoriasis and rosacea etc.
* Please allow a week or so for delivery depending on the wholesale purchase quantity.
Contact Info:
Email - walter@buttertherapy.com
call - 919-259-5508